I
t's true, I have joined the ranks of solo sailors, except before my head gets too swelled I must admit I simply sailed around Coon Island. But I did do it solo, and I didn't bring a motor.
When I cast off that melancholy mid morning, right after breakfast, heading southerly, I was immediately faced with a 1.5 mph adverse current that began to drag me backwards. Thankfully my 30 year old, new to me, 9.5' sailing dinghy performed well in the light airs easily overcoming the current. Soon I was past the point of no return, rounding the tip of Coon Island, being careful to avoid the sunken breakwater barge. Once around the point my trusty vessel was caught in a spinning vortex that would terrify a less experienced sailor. The tiller became unresponsive as we spun through several 360 degree turns. In desperation, and trying not get hit in the head, I used my free hand to tame the boom and back wind the mainsail. Finally free of the barges eddy's, we were off on three or four rail down tacks making quick work of the island's west side.
Only a few minutes after eating and with no food or water on board, I was approaching what would become the final turn and then a telling downwind romp back to the dock I had left 1,500+- seconds earlier. Letting out the main sheet, and slacking the out-haul there was nothing left to do but bask in well deserved glory as I approached the dock from the opposite direction I had departed from less than half an hour earlier that morning.
After handing the dock line to an admiring power boater, I was greeted warmly with, "I see your problem, you have a loose nut on the end of your tiller."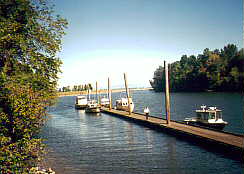 One of two Coon Island floats, on shore are composting toilets, shelter, fire rings, and a few campsites.
Coon Island is in the Multnomah Channel, a side shoot off the Columbia River. The entire half mile long 23 acre island is a county park, (JJ Collins Marine Park) and my favorite place to overnight near my home in Portland.
Now that I have become infected with the circumnavigation bug I am setting my sights on bigger and more challenging goals. This summer in the San Juans I will attempt Jones Island on July 5th, but I'm not promising any biggies such as Sucia, and of course Orcas is just a dream for my 9.5 sailing dinghy. ( maybe for Orcas, I'll bring my 2.5 hp Suzuki kicker, and a sandwich)